---
North to Alaska with The Buzbee Family
Vancouver to Anchorage
Summer 2003
Click on pictures for larger views
---
Leaving Vancouver

Passing under Lion's Gate Bridge

Tom contemplating the view

Family Portriat

Downtown Ketchikan.
Sitting on the deck of the ship I was able to access
the Internet with my laptop using a nearby wireless
access point. Ain't it great to get away from it all!

You can't visit Alaska without
posing in front of a
Totem Pole

Laura beaming after winning a
on-board game of "Wheel of Fortune", beating
all the adults in the process. Too bad
she was too young to keep the champagne.

Our ship, docked in Skagway

The sun didn't set until after 10PM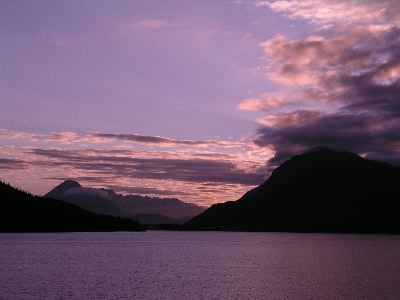 Judi Tom and Laura enjoying the ocean breeze

A lonley lighthouse

Tom and Laura

Glacier. For scale, notice the full grown
trees at the water-line

Two glaciers coming together

You can see four different glaciers in this picture

Ship view

Tom, on our way to Anchorage

A calm Alaskan lake